60uP® April Special Bundle
Customer Reviews
Write a Review
Ask a Question
Filter Reviews:
balance
exercises
board
improvement
difference
strength
legs
program
times
results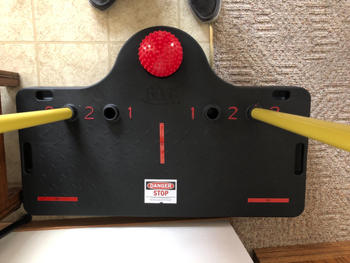 02/03/2021
Best Birthday Present
I gave this to my wife for her Birthday and she loves using it. We are in ou early 70's and I am going to start using it too,
Glen B.

United States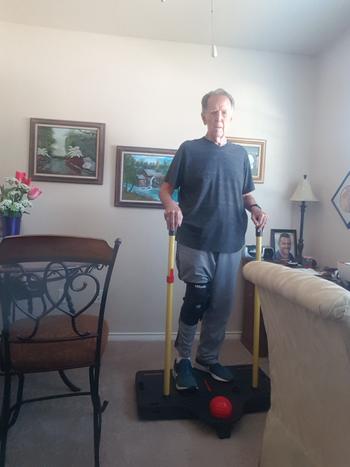 10/12/2020
I ought to know what I need
To start with, I am 85 years old and I should know by now what I need and don't need. Even though I have fallen 3 times this year I tried to convince my wife I didn't need the balance board. My son called me and said Dad if you don't buy it I'm going to buy it for you. So I went out and bought one and am I glad I did. I have been feeling so much better exercising on the balance board that I have not missed a day of exercise since August 4th. My walk is stronger and I can walk down the street without looking like a ***** man. I can even stand in the yard and look straight up at the sky without losing my balance. My footfalls are more sure. I feel so much better about myself and my well-being now that I have used the balance board. Maybe even at 85 I don't know everything I need, thanks son and thanks 60up!
Larry W.

United States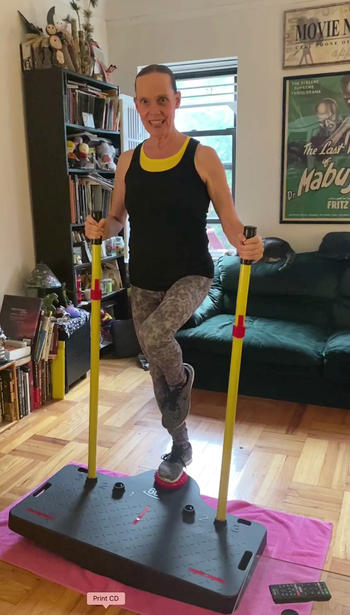 10/07/2020
Vertigo? Seems to be Going with 60 up
I lost most of my hearing about 9 years ago and with it, I got the gift of VERTIGO. Love the movie, Hate the feeling. I was unable to do YOGA, tripped on the street a lot, and had bouts of dizziness that are quite unpleasant. Sometimes I just go on the balance board for a few minutes before heading to the store. I found that I tripped less. One great thing I was taught from the video is to look up not down. I was always afraid of tripping, so my eyes were always on the ground, and I still tripped over my own feet. Keeping my eyes on the road ahead (metaphorically and physically) has really helped. I am tripping less but worrying about tripping a lot less. I am still at the beginner level though I enjoy some of the advanced exercises to shake things up.I think the best thing the balance board has given me is confidence.
Bambi

United States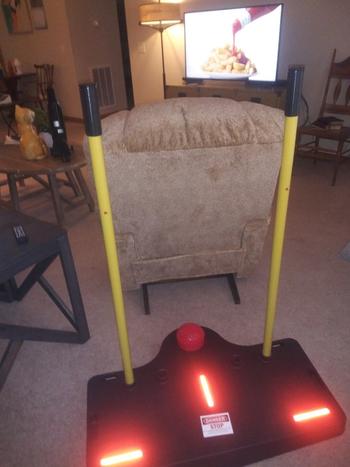 07/05/2020
1 Week and I Already see Improvement
I'm still only doing warm up and quick start exercises 10 minutes twice a day and already feel improvement in my balance. Also do tip and balance as suggested in news letter while I watch tv. Tomorrow I'm going to extend exercise time to 15 minutes using DVD Beginners Level.
Donna D.

United States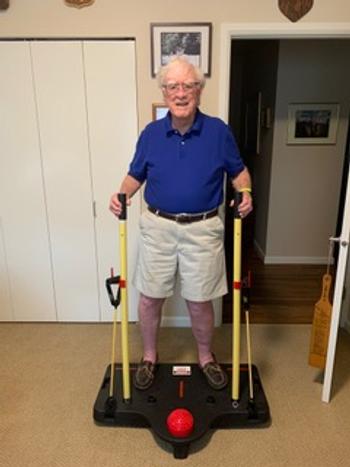 06/23/2020
WORKS and I'm 90!
Shortly after my 89th birthday in March of 2019, I had a talk with myself because I could see that my body was going from bad to worse. I was sitting most of the time and getting no exercise. My balance was terrible, I was falling a lot and I was having to reach out and hold onto whatever was available to support myself when walking. My back hurt to the extent that I could not walk very far without holding onto something. I finally said to myself, "either I start exercising or I won't be around much longer." I started walking every day and took my walker with me. My first walker was a cheap one that left me hunched over, resulting in me not being able to walk very far. So, I went out and bought an upright walker and seriously started walking one to two miles per day. This was good exercise but it, unfortunately, didn't do anything for my balance. In December I saw an advertisement for the 60uP board and decided that maybe it would help. When I called, I asked the customer service representative if it would work for someone as old as I was, the woman said "yes" and I immediately bought one. After using the 60uP board for a couple of weeks, I became totally frustrated and set the board aside. We moved to Washington state in March of this year, in the process of it all the 60uP board ended up stashed under the bed. Shortly after my 90th birthday, a friend from Texas reached out and asked if he could buy my board. I considered selling the board to him but figured the freight from Washington to Texas would be more than he was willing to pay. For some reason I got the board out and assembled it in my office, I stepped onto it and strangely enough, the board began working for me. By using Bob Eubanks three week program, I am working on the board daily. I found that not only was I enjoying it but that amazingly I began to regain my balance. I have yet to fall since then and I am walking normally without having to look for some sort of support. My feet feel the ground and my brain automatically centers me in and finds my balance. I have tripped several times but unlike before, my brain and feet corrected the situation resulting in me not falling. It really amazes me how the 60uP board has improved my life so much to where I believe it will add some years onto my life, being that I am in good health otherwise. I am currently working with the intermediate exercises and have slowly worked my way into the advanced exercises. Throughout my life I have exercised to some extent, I gave up smoking in 1964 and started jogging. This went on for thirty years until I had my left knee replaced. The replacement was great being that I was able to ski and hike on it for twenty years in my retirement until my balance completely left me. I enjoy working on the 60uP board because it challenges me and I am gaining more and more benefits from it every day. Having a 90-year-old body, I know I will never be as good as the instructors, Cathy and Bob but working out on the board has sure improved my balance. I feel like Bob Eubanks when he says that the 60uP board has made a huge difference in his life because it's done the same for me. I called back my friend who offered to buy my board and recommended he buy one for himself! Thank you for developing the 60uP board, there are tons of advertisements online promising to improve one's balance but I seriously doubt that any will do what the 60uP board has done for me.
Bob S.

United States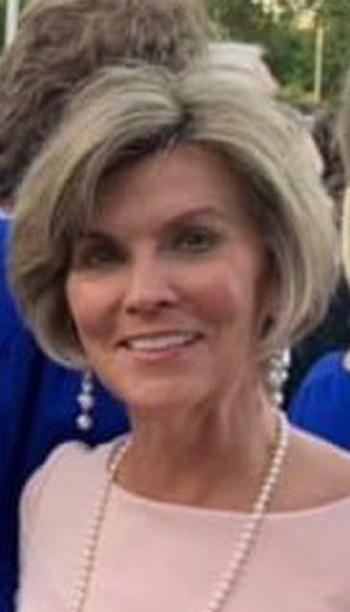 02/06/2020
It really works!
When I first got on, it wobbled so much I thought this will never work. After three days though I finally was able to balance and I could tell the difference walking upstairs without a handrail. I am very impressed with this piece of equipment. I know it is a little on the expensive side but it was worth every penny.
Bonnie S.

United States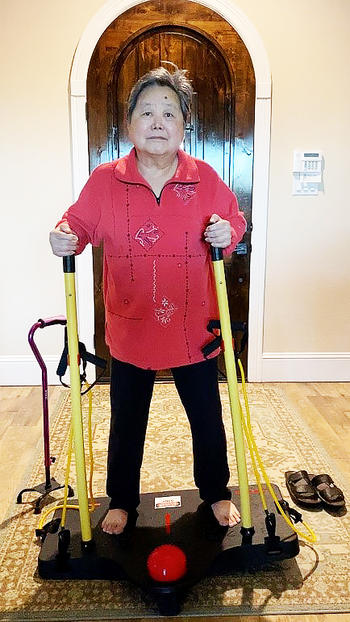 02/06/2020
Great invention!
I bought this for my 81 year old mother who has a broken hip and has become extremely weak and has poor balance. We have just started with the first 3-4 simple exercises and the board is so safe and stable yet gives her the perfect workout at her level. I am grateful to you for developing something like this that I can work with my mom at home - maybe I will be able to keep her around longer!
Cybele W.

United States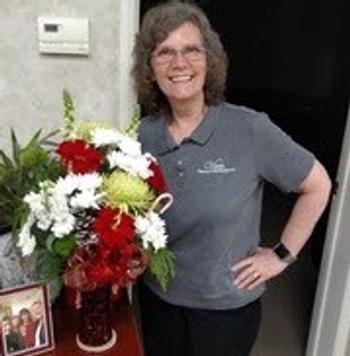 11/18/2019
This 60uP IS amazing!!!
The 60uP board IS AMAZING just like Bob Eubanks says! I am using it every day (if possible) and my balance has greatly improved. I noticed after a week or so of using the beginner's routine that when I was standing in one place, my feet felt like they were rooted in the ground like tree roots and my legs felt like they were sturdy tree trunks. My body weight was so balanced! It happened gradually, too, without any pain in my muscles. I am now switching between the intermediate and advanced routines so my upper body will get strengthened as well as my legs and am looking forward to seeing more videos on YouTube. The only thing I don't like about the board is having to switch the poles in order to use the bands. Sometimes I have difficulty in putting the pins in and through the holes. I have trouble with my lower back, so I can't lean over like Dan shows in the video, so I have to squat down on the floor to move the poles. I wish they were easier to move. However, I still am giving the 60uP board a five star rating because if you are consistent with using the board every day, you WILL see results and will see them fairly quickly. It IS amazing and I am very glad that I invested in the 60uP board for my health and my husband's health.
Betty B.

United States
03/03/2021
Feeling Stronger!
This is honestly one of the best purchases I've ever made in my life. I have very limited mobility and flexibility due to some physical disabilities. Consequently, it is difficult for me to find exercises that can strengthen my core, back, and legs, without having to get down on the floor or do things I'm not able to do. With the 60uP, I have noticed a difference in those areas in just a few months use. And, I feel stronger and more confident when I'm walking up stairs or taking a walk through our botanical garden. I don't get out of breath as much, and I have more endurance. This is a piece of exercise equipment I plan on having for the rest of my life.
Rebecca R.

United States
03/02/2021
Excellent Product
Although I have not been able to use the equipment yet due to physical limitations, my at home physical therapist has looked at it, studied the DVD, tried the exercises and plans to recommend to some other patients. He thinks it is great! I am looking forward to being able to use it myself soon!
Beth O.

United States
03/02/2021
It really works!!
I purchased the 60up as a Christmas gift for my husband who has been struggling with balance issues, particularly over the last 3 years. It wasn't improving even after physical therapy so I bought this so he could work on balance at home. Right away there was improvement and he can walk in places where he couldn't before. Love this product and the instructors that teach the daily classes!
Mary H.

United States
03/02/2021
Out standing help
My husband works on it every day. I got this board to help with his balance since his stoke. It is slow process but he keeps trying and working on the board. Thanks, for the classes on facebook, and Thanks to Dan Metcalf for all his help.
CANDIS H.

United States
03/02/2021
Really pleased.
So happy I made this purchase. The quick follow-up soon after my purchase was impressive. The company truly makes you feel a part of the 60 uP family. There are so many ways to join in on instructional training & exercise videos through social media. The difference in my balance is unbelievable.
Nancy C.

United States
03/02/2021
It helps
It has done what I expected to do which is helped my balance tremendously
Barry B.

United States